Alma Media is purposefully growing its digital media and service businesses in Finland and elsewhere in Europe.
Investing in Alma Media
Alma Media is a highly innovative media company focusing on digital services and journalistic content. The company builds sustainable growth from media to services, providing content and services that benefit users in their everyday lives, work and leisure time. Our products are leading media and service brands in their respective fields.

Alma Media has employees in 11 European countries. In Finland, our business operations include financial and professional media, national consumer media, digital consumer and business services, training and the publishing of professional literature. Alma Media's international business in Eastern Central Europe, Sweden and the Baltic countries consists of recruitment services, an online marketplace for commercial properties and direct marketing services. Alma Media's share is listed on NASDAQ Helsinki.
Why invest in Alma Media?
Alma Media's cash flow and balance sheet structure enable continued investments in growth in the future. Furthermore, the company's long-term financial targets support both growth and an investment approach focused on dividend income. Have a look on our investment story in a nutshell and read more here.
Alma Media's Q1 2022 Interim Report
Alma Media published its Interim Report for January–March 2022 on Friday, 22 April 2022 at 8.00 EEST. The live webcast recording of the analyst info can be viewed at https://almamedia.videosync.fi/results-q1-2022/register (you are kindly asked to register). Questions asked through the webcast chat function are answered in this recording.
Capital Markets Day 2021
Alma Media arranged a Capital Markets Day for investors and analysts on Thursday, 16 September 2021 from 13.00 until  16.00 EEST.
The program and link to live webcast recording of the event is available here.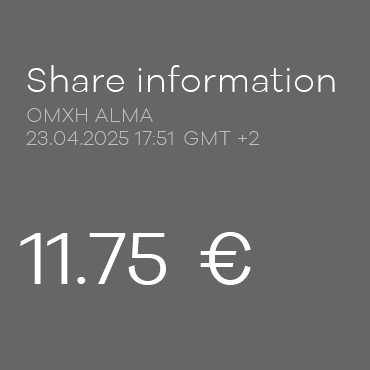 Tweets by AlmaMedia_IR