Alma Media is purposefully growing its digital media and service businesses in Finland and elsewhere in Europe.
Investing in Alma Media
Alma Media is a media company focusing on digital services and publishing. In addition to news services, the company's products provide useful information related to lifestyle, career and business development. The services of Alma Media have expanded from Finland to the Nordic countries, the Baltics and Central Europe. Alma Media's share is listed on NASDAQ Helsinki.
Why invest in Alma Media?
Alma Media's cash flow and balance sheet structure enable continued investments in growth in the future. Furthermore, the company's long-term financial targets support both growth and an investment approach focused on dividend income.
Interim Report Q3/2018
Alma Media Corporation published its Interim Report Q3/2018 on Thursday 25 October.
General Meeting 2018
Alma Media Corporation's Annual General Meeting 2018 was held on 14 March 2018.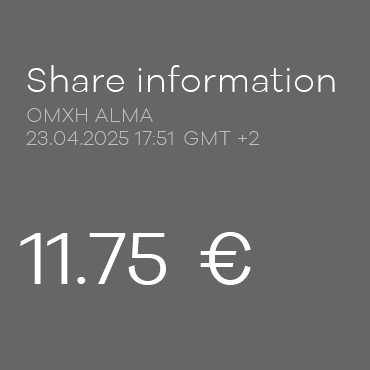 Download Alma Media's app for investors
The application is now available in App Store and Google Play.